Age of Mythology: The Titans (2003)
Age of Mythology: The Titans adlı oyun, Age of Mythology oyununun devamı niteliğindedir. Oyunu yüklemek için önceden Age of Mythology oyununun bilgisayarda yüklü olması gereklidir. Oyunun Random Map bölümüne klasik oyuna ilave olarak Atlantis Uygarlığı ve tanrıları eklenmiştir.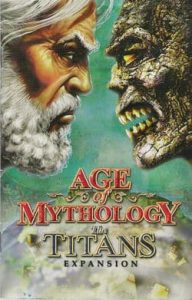 Age Of Mythology: The Titans Oyununa Genel Bakış:
Savaş(Campaign) bölümüne 12 adet ek oyun eklenmiştir. Bu oyunlarda Atlantis'i yöneterek ilk önce Kastor'un Titanları Tartaros'tan bilmeden kurtarmasına yardım edip, sonra da onları yok etmeniz isteniyor. En son da Kronos'u yok ederek Atlantis'i yeniden diriltmeniz gerekmektedir.
Ana eklentilerden biri de adından belli olduğu gibi Titanlardır. Bunlar, oyunda rastgele harita (random map) bölümünde en son çağa gelindiğinde ekranın üst tarafında çıkan araştırma ile keşfedilir; ardından tamamlanması oldukça uzun süren bir yapının içinden çıkarlar. Her ırkın Titanları farklıdır. Ancak bir tane üretilebilirler. Titanlar ölürse tekrar yaratılamazlar. Ayrıca oyunun Campaign bölümünde Poseidon (Atlantis tanrısı) bulunmaz. Çünkü bu tanrı Age of Mythology'nin son bölümünde Arkantos ve askerleri tarafından öldürülmüştür("statü" olarak yok edilmiştir, oyun poseidonun kaderini ucu açık bırakmıştır. ); Ancak random map bölümünde bu tanrıyla oynayabilirsiniz.
Age Of Mythology: The Titans Oyun İçeriği ve Gelişim:
Oyunun en heyecanlı ve güzel kısmı senaryosudur. Burada Age of Mythology'deki kahramanlardan Arkantos tanrılaşmaya başlamıştır ve serideki Ajax ve Amanra yaşlanmıştır. Atlantis Harabelerinden Krios uyanmıştır ve Theocrat'ın (Atlantis'deki Yaşlı Adam) içine girmiştir. Krios'un amacı(aynı Gargarensis gibi) Kronos'u uyandırmaktır.. Senaryodaki baş kahraman artık Arkantos'un oğlu Kastor olmuştur. Senaryoda sırayla Titanları yenip 12 bölüm sonucunda Gaia'yı Çağla bitkisi (Yunanca: Grenaluondus) ile diriltip Kronos'ile savaştırmak gerekmektedir.
Age of Mytholghy:The Titans'daki tanrılar
Yunan Tanrıları: Zeus, Hades, Poseidon
Mısır Tanrıları: Ra, İsis, Set
İskandinav Tanrıları: Thor, Odin, Loki
Atlantis Tanrıları: Kronos, Uranüs, Gaia