Age of Mythology: Extended Edition (2014)
Age Of Empires II HD versiyonun günümüz teknolojilerine uygun olarak yeniden düzenlenip sunulmasından sonra gerçek zamanlı strateji oyunları severleri Age Of Mythology sürümünde de aynı şekilde bir yenileme yapılıp yapılmayacağını merak ederken 2014 yılında müjdeyi oyunun geliştiricileri olan SkyBox Labs , Ensemble Studios  Age of Mythology: Extended Edition ile verdi.
Geçen 12 yılın ardından kahramanlar, efsane canavarlar ve ölümlülerin işlerine tanrılar yeniden müdahale ediyor!
Ordularının gücünü artırmak için Minatour ve tek gözlü devler gibi mitolojik yaratıklar kullanabilirsiniz. Tanrıların göktaşları ile düşman köylerine saldırabilir veya Yıldırım ile muhalif birlikleri dağıtabilirsiniz.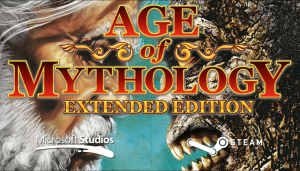 Genişletilmiş Sürüm İçeriği:
Age of Mythology
Age of Mythology: The Titans
Altın Hediye Kampanyası
Genişletilmiş sürümdeki yenilikler:
Geliştirilmiş Görseller
Günümüz görselliği
Geliştirilmiş su grafiği
Gölgeler
Bump / Speküler haritalar
Küresel Aydınlatma
Kenar Yumuşatma Ve Ortam Tıkanıklığı
Tam Steamworks Entegrasyon
Atölye mod yöneticisi
Çok oyunculu
Başarılar
Ticari Kartlar
Fersah / Rozetleri / Etkinlikler
Bulut kaydeder
Genişletilmiş Özellikler
Entegrasyon
Antlaşma Modu
Gelişmiş Gözlemci modu
SİSTEM GEREKSİNİMLERİ
MİNİMUM:
İşletim Sistemi: Windows Vista, 7, 8.1+
İşlemci: 1.6 Ghz
Bellek: 1 GB RAM
Ekran Kartı: Direct X 10+ Capable GPU
DirectX: Sürüm 10
Depolama: 3 GB kullanılabilir alan
Ses Kartı: Direct X Compatible Sound Card
İlave Notlar: GPU at least (Integrated HD 3000, 8600GT, etc)
ÖNERİLEN:
İşletim Sistemi: Windows 7, 8.1+
İşlemci: 2.6 Ghz
Bellek: 4 GB RAM
Ekran Kartı: Direct X 11+
DirectX: Sürüm 11
Depolama: 5 GB kullanılabilir alan
İlave Notlar: GeForce 9800GTX, Radeon 4850+
Ek Paketleri
Age of Mythology EX: Tale of the Dragon